blaykyi-kenyah/adinkra

ADINKRA SYMBOLS
A repository of Akan adinkra symbols, updated reguarly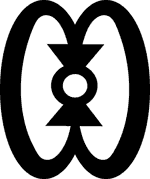 Wo nsa da mu a
Your hand(s) is/are in (the dish)
A symbol of democracy and pluralism (from the saying, wonsa da mu a, wɔnni nnya wo, meaning 'if your hand(s) is/are in the dish, you're not left behind in the eating')
Gye Nyame
But for God
A statement of faith in, hope in, or appreciation of God
Aya
Fern
A symbol of creativity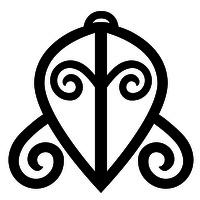 Ɔdɔ nyera fie kwan
Love does not lose its way home
Love finds its way. Also a proberb.
Adinkrahene
King of the adinkra
A symbol of authority and leadership
Dawnnini mmɛn
Ram horns
A symbol of strength and humility
Sankɔfa
Go back and take
A symbol of retrieving and cherishing heritage
Nkyinkyin
Twists and turns
A symbol of the turtuous path of life
Aban
Fortress
A symbol of durability and reliability
Woforo Dua Pa A

When you climb a good tree

A symbol of supporting worthwhile causes. This is from the proverb, "woforo dua pa, na yepia wo", meaning, it is when you climb a good tree that you are pushed
Funtumfunefu ne Dɛnkyɛmfunafu
The name of a mythological creature

A symbol of a struggling towards a common goal
Wawa Aba
The seed of the Wawa tree

A symbol of toughness and hardiness
UAC Nkanea
UAC LIghts

A symbol of technological innovation, but a statement of colonialism. UAC is the
United Africa Company
, later absorbed by Unilever
Tamfo Bɛbrɛ
Enemies will suffer
A symbol that counters jealousy, or motivates success in the face of emnity
Ɔkɔdeɛ Mmɔrewɛ
Eagle talons
A symbol of strength and leadership. The eagle is the totem clan of the Asante royal family, the Oyokoɔ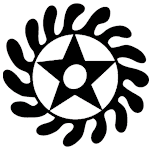 Sesa wo suban
Change your character

A symbol of advice to the recalcitrant going down the wrong path
Nyansapɔ
Knot of Wisdom/Wisdom knot

A symbol of the ability of wise people to untangle delicate situations. From the proverb "Nyansapɔ, wɔsane no badwemma", discussed in the
proverbs section
.
Owuo atwedeɛ
Death's ladder
A symbol of the inevitability of death. From the proverb, "Owuo atwedeɛ, baakofoɔ mforo", meaning Death's ladder is not climbed by only one person.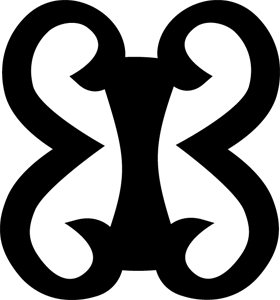 Pempamsie
Sew and save aside
A symbol of preparedness
Ɔsram ne Nsoromma
Moon and star
A symbol of faithfulness, love, and harmony
Nyame Dua
God's tree
A symbol of divine presence and protection. The nyamedua is
an actual tree
native to tropical West Africa. Known for its fine grain, it is ideal for detailed carving, and is considered sacred in some Akan communities.
Nteaseɛ
Understanding
A symbol of understanding and cooperation
Nyame nwu na mawu
God won't die, so I will not
A symbol of hope in the divine, especially for the preservation of one's life
Okuafo pa
Good farmer
A symbol of diligence and entrepreneurship
Sepɔw
Executioner's knife
A symbol of justice
Nyame Biribi Wo Soro
God's thing is in heaven

A symbol of hope in the divine
Nteaseɛ
Understanding
A symbol of understanding and cooperation
Nyame nwu na mawu
God won't die, so I will not
A symbol of hope in the divine, especially for the preservation of one's life
Okuafo pa
Good farmer
A symbol of diligence and entrepreneurship
Sepɔw
Executioner's knife
A symbol of justice